Name: Hound & Ravage
Series: Transformers Universe
Faction: Autobot & Decepticon
Assortment: Deluxe Class (Wave 5 Release)
Packaging: Carded
Release: 2008
Manufactured By: Hasbro
Variations: Henkei Hound with Jaguar (Takara Tomy)
Accessories: Hologram Projector/Gun

Toy Review by: JayCee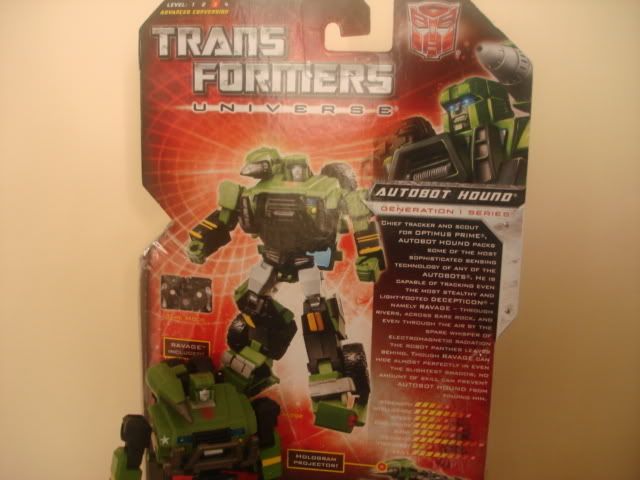 HOUND

Introduction:
one of the few Autobots who crash landed on earth along with the ARK.
being the Chief Tracker and Scout, Hound was an expert in tracking even to the most stealthiest Decepticons




Vehicle Mode:
In vehicle mode Hound transforms into an Off-road Jeep which is very reminiscent of his G1 character specially when the Projector is loaded on its back.




Transformation:
Transformation is on a medium level of difficulty. in Off-road mode he snaps on into place perfectly. in exception, in robot form the Hologram Projector falls a lot (mine is T_T)

Robot Mode:
Robot mode is Cartoon accurate to the G1 series but the color is a bit lighter than the G1 colors, fortunately, the upcoming Henkei Hound will clear that out.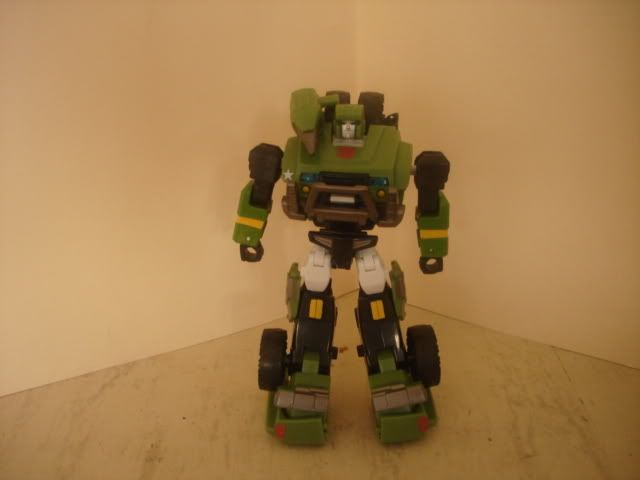 another good feature I found is how Hound can hide his front wheels in his back. I've read and watched a lot of reviews saying you can do a lot of things with the front wheels since it holds a lot of movements.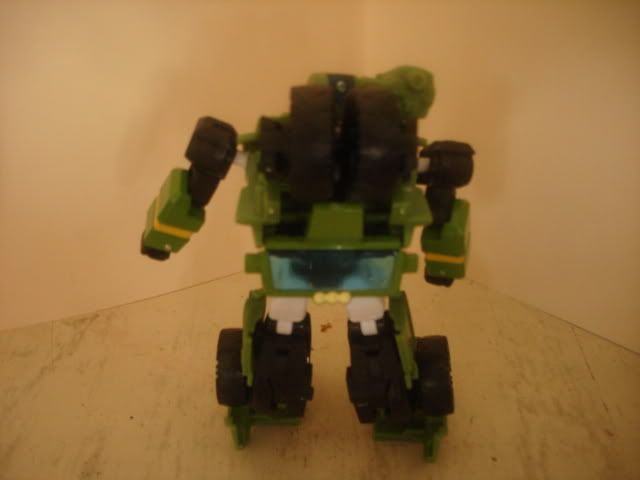 everything is GREAT but as I have said the Hologram Projector REALLY falls a lot (T_T) so to stop the whining I just let Hound hold it as a gun




Size Comparisons:



Comments:
none..........BUT the Hologram Projector shouldn't really be falling out a lot

The Score:
THIS IS A MUST HAVE for all G1 fans....ESPECIALLY when you got the Hologram Projector attach properly to his shoulders......WITHOUT falling



RAVAGE

Introduction:
Ravage is one of the Tape cassettes of SOUNDWAVE. introduced as a stealthy spy gathering information from the autobots in the G1 series and one of the few Decepticons that transforms to an animal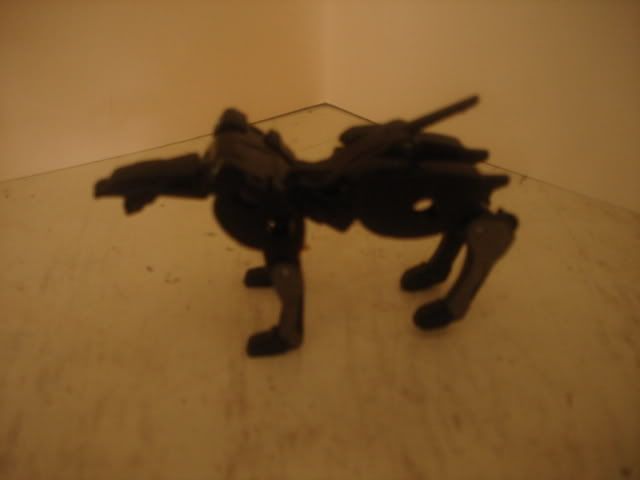 Cassette Mode:
Cassette mode reminds me very clearly of him during the G1 when he use to lurk behind bushes and rocks to ambush unsuspecting Autobots.




Cassette was also made to fit in Vintage SOUNDWAVE (SOUNDBLASTER on my part LOL)




He can also attach to Hounds rear in Off-road mode. but I really didn't get why would he?





Transformation:
Transformation was taken from a whole new level. a lot of twists and turns were added to make him more bulkier in Panther mode and at the same time give you the accurate Cassette mode

Panther Mode:
Panther mode is much more bulkier than his G1 counterpart plus he still got that cool Stalker look in him. Hasbro also failed to put Rockets on him that should have made him MORE accurate.




Its a good thing he can borrow Rockets from the Vintage Ravage.





Size Comparisons:



Comments:
Ravage gets a satisfying set of gimmicks for as long that you have the VINTAGE SOUNDWAVE/SOUNDBLASTER

The Score:
Another MUST HAVE for all G1 fans......I tell you, you wont be disappointed
(well I am ^^)

Overall:
4.5 Robot Points......good cassette and panther mode but would be way better if it comes with the rockets
Sphere: Related Content