review by Mark Cerbo aka magnusjam

Name: MA-15 Longarm
Series: The Movie
Packaging: Re-seal able Card
Release: 2007
Manufactured By: Takara
Variations: Longarm (Hasbro, 2007)
Accessories: Instruction Manual (In Japanese), TakaraTomy Product Catalog, Orange Translucent Missile
Notes: Japanese version slight difference how they sealed the packaging.

Toy Review by: MagnusJam


Introduction:

Longarm did not appear in the movie in robot mode, but clearly he was the tow truck that Mikaela drove when Bumblebee was severely injured and could not walk. Basically Longarm is based in The Transformers The Game released to all platforms.


Vehicle Mode: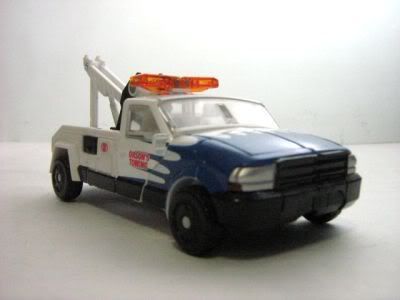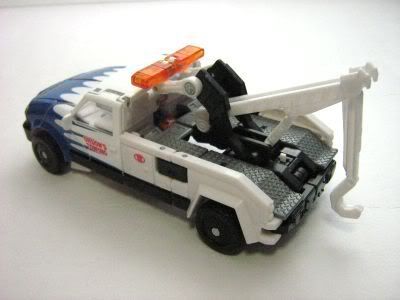 Disguised as a tow truck in his alternate mode. The vehicle resembles (loosely) Chevrolet Silverado pickup. Colored white with blue flame on the front hood. Has a black grille painted with detailed headlights.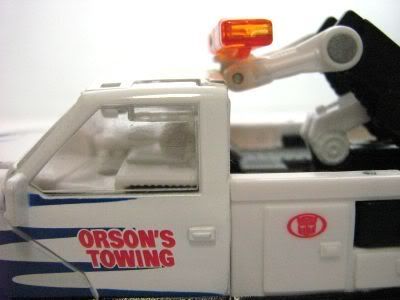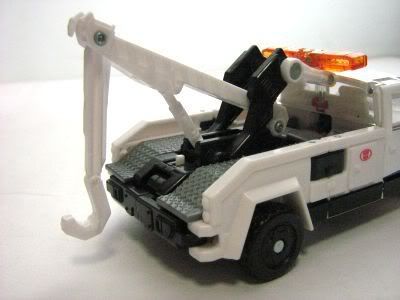 A description of Orson's Towing in red lettering. There is also a small Autobot insignia on both side of the quarter panels. An amber orange light bar sits on top of the roof. A functional wrecker hook that can swing up and down. A detailed wrecker boom has marginal lift of 15 degrees.




The same quality of plastic used similar to Payload as you notice the wrecker bed with the steel plate look. A un-even rear part in alternate mode doesn't seem to sync preferring one side or the other. Basically sometimes a bit frustrating to even both parts together.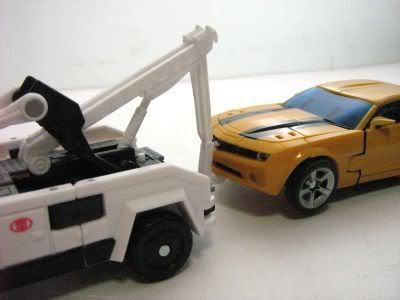 When it comes to scale side by side with the Camaro Concept (Bumblebee) its out of scale as a tow truck this was supposed to be a bit bigger. The wrecker boom can tow selected Autobot cars not only from The Movie toyline, but previous TF series as well.


Transformation:

Longarm has a bit of challenge when transforming the figure. But the difficulty is mostly focused on the upper body. What makes it to have a minor difficulty basically lies in his arms once you position them leveled to his shoulders. Entirely its a neat transformation without an automorph ability.


Robot Mode:

The head looks like a ski mask from Friday the 13th horror film mostly painted in white with black outlining. An Autobot insignia on his forehead, and has light piping orange eyes. Design on his chest mostly covered in steel plate.




Minimal orange paint on his thighs mostly retains his white color from his alternate mode. The wrecker assembly becomes a huge gun with firing orange missile, which is pinned to his right hand.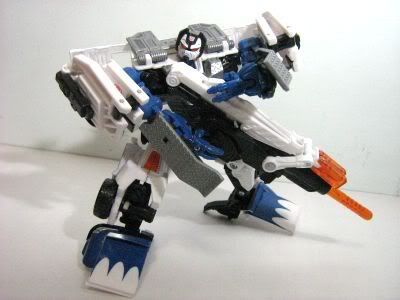 Well articulated joints to elbow and arms which is ball jointed same with his head. A bit of frustration is his huge rifle, which is permanently attached to his right hand to avoid losing it. The feet design what makes it more playable for an action pose.


Comments:

So far best non-movie figure around with decent paint job. Menacing face added to that the light piping is orange tailored to his light bar and missile. Articulation and one scary look what makes this figure sought after by the fans who played the game.




Overall he could have been one of the perfect, though slight un-even parts when transforming to his vehicle form makes it rather a bit frustrating.


The Score:

Skill Level: 3
Vehicle Mode: 4
Robot Mode: 4
Gimmicks: 5

Overall: 4 out of 5 Robot Points

Special thanks to...

Blitzwing of TFormers.com who inspired me to review this figure for the local Transfans after his.

Discuss this in our Forum

Sphere: Related Content