Name: Elita-One
Series: Transformers The Movie
Packaging: Carded
Release: 2007
Manufactured By: Hasbro
Variations: Arcee (Energon 2004), Ariel (Super-Link 2004), Paradon Medic (Fun Factory Japan Exclusive 2004), Chromia (Covention & Club Exclusive 2005), Flareup )Convention & Club Exclusive 2005), Flamwar (Convention & Club Exclusive 2005), Arcee (TFTM Target Exclusive 2007)
Accessories: two exhaust parts, one missile, and instruction manual
Notes: US Target Exclusive Wave 3

Toy Review by:magnusjam


Introduction:

Basically the most used mold so far possibly beating the G1 Combaticons for repaints.

Let's call it "The Arcee Mold" has been repainted and released either as a store exclusive, convention exclusive or club exclusive (if your a member of the Official TransFormers Club).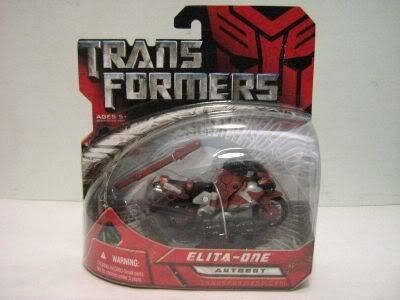 So far for this year of 2007 it was released twice. First as a repainted/recolored Blue Arcee as part of the first wave of the Target Exclusive and as Elita-One repainted in mettalic red for the third wave assortment exclusive of the same store.


Vehicle Mode:

A sporty motorcycle probably the ones used in motor cross. Forgive me for less knowledge about what type Elita-One is as a motorcycle.





This time around The Arcee mold is repainted again and renamed as Elita-One a namesake of Optimus Prime's leading woman in the old cartoon.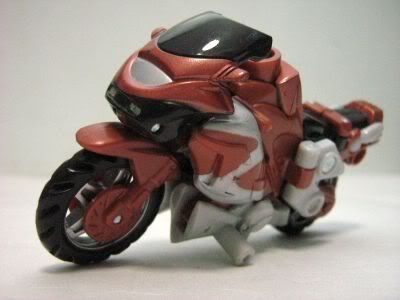 The bike itself is painted in mettalic red with pearl whit accents.





Similar to the original Arcee that was released in 2004 under the Energon toyline, but with a bit dark mettalic colors replacing the original pink.




Its not entirely to scale with any 3 3/4 G.I. Joe figure, but it sure stands out as a scaled down big bike.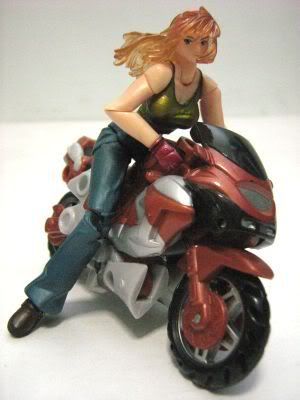 Though not entirely good to see Snake Eyes playing with a motorized bike for kids. The bike would look really great if it was driven by any attractive female action figure or gashapon.


Transformation:

What do you expect from Scout Class figures. Mostly simple transformation like folding one part and splitting another to form the arms or the legs. No difficulty in this figure when it comes to transfomations.

Robot Mode:

Describing her head had deep blue eyes and silver face. This is sort of like helmet shape still distiguishing the design of Arcee's signiture head.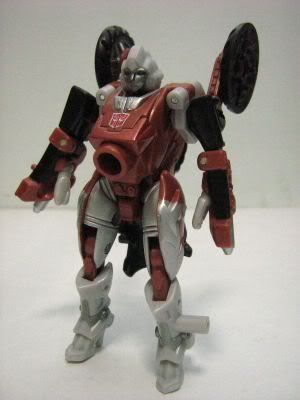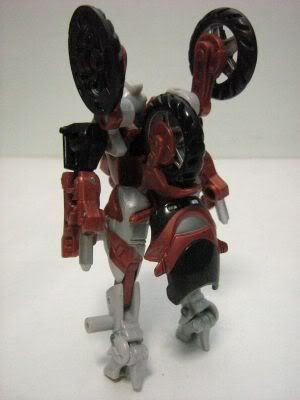 The body now defines the red metallic colors and silver linings in her biceps. The usual limited articulation and has very small hands.




Not taller than a G.I. Joe figue Elita-One is small as somewhat previous reviews about Arcee, and as I notice something's missing in this figure that would have captured the new fans "wow" factor.




She carries a huge bow made out of the exhaust when she's in her vehicle mode. Previously since she came from the Energon toyline she has with her the weapons made of... Energon. It was previously colored in transparent red along with the Energon Star now painted in flat black.

The robot mode has not change nor have any minor retooling. Its the same Arcee figure from the Energon series.

Comments: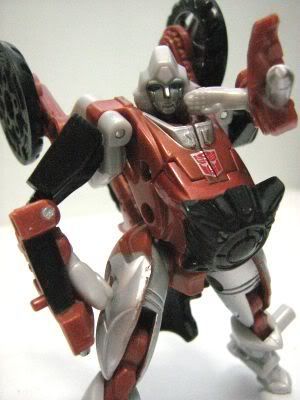 Overall Elita-One is still Arcee no matter what color you put in this figure. Though they captured the original essence of Elita-One, that doesn't change with regard to the head design signiture of Arcee. Right now she's a must have for those who didn't dig the blue Arcee colors.



The Score:

Skill Level: 1
Vehicle Mode: 5
Robot Mode: 4
Gimmicks: Energon weapons can be used by Deluxe Classor any Energon figure.

Overall: 4 out of 5 Robot Points... Due to this was already previously reviewed in the original colors.


Special thanks to...

To Boyet for keeping us posted about the toy arrivals.

Discuss this toy in our forum

Sphere: Related Content