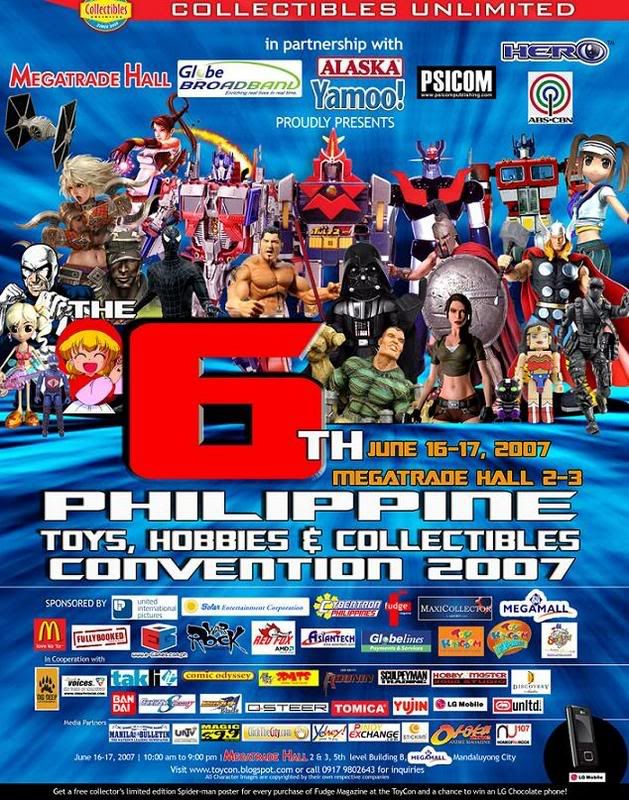 log on to http://toycon.blogspot.com for info

6th Philippine Toys, Hobbies and Collectibles Convention
June 16-17, 2007
Megatrade Hall 2-3,
SM Megamall
10:00 am to 9:00 pm

Everybody marked your calendar and dont forget to attend the big convention of the year for toys, comics, anime and of course TRANSFORMERS.

TransFormers Philippines will be there to curate the 1st EVER !!! Exhibit of Master Illustrator - FLORO DERY, displayed are his character design and concept art from the G1 Series and Animated movie of TransFormers.

Also, TransFormers Philippines will be having a contest - TransFormers SPEED Contest, a contest patented and originally conceptualized by TFPH for fans here in the Philippines which you need to transform the toy and the fastest one will win the contest. The contest is free for kids and adults. The grand prize for this year contest will make your toy collection more valuable. Like the previous Toycon, TFPH gave away Unicron and Primus toys.
On its 3rd year, the contest is much bigger than ever.

TFPH will also have a booth filled with activities and freebies for everyone.

TFPH shirts will be given for FREE !!!
yes FREE, all you need to do is bring along a blank shirt at the event.

see you all next week and have a great TF year this year!

Rock and Roll out!


Sphere: Related Content